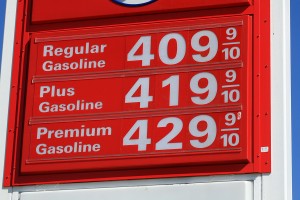 In recent years, gasoline prices in the United States have fluctuated widely. Because it is difficult for consumers to alter their gas consumption in the short term, this variation in transportation costs significantly affects the portion of disposable income that is available for other categories of household expenses.
Recent research finds that a significant increase in gas prices leads the average household to reduce shopping frequency by approximately 20% and total expenditure by about 14%. A substantial shift was documented in spending away from traditional grocery formats to one-stop shopping supercenters. That same significant rise in gas prices also resulted in a 3.6% reduction in grocery format share and a 24.9% increase in supercenter share.
As might be expected, consumers buy fewer full-price name brands shifting more to promotions on name brands than to private label. For the jump in gas prices we have recently seen, regular-priced national brands lose 12% of their share while promoted national brands gain 29%, with private label gaining only 3%.
Delivery of promotional messages to smartphone subscribers set up with proximity marketing capabilities is not an option any longer, it is a fiscal imperative. GTX Corp (OTCBB: GTXO) a leader in 2-way GPS Personal Location Services (PLS) and ADAM, Inc., the nation's largest platform for Hyper Local Mobile Apps for Directories, will enable 123 Chambers of Commerce representing over 100,000 businesses nationwide to push out proximity promotions, utilizing the GTX Corp GPS/PLS Platform and leveraging its one million and growing GPS Tracking Smartphone App user base.